Happy Eat an Extra Dessert Day with our recipe for
Your Grandmother's Double Chocolate Mint Chip Cookies
     No, I did not misspeak. I call this YOUR grandmother's recipe, because unlike most grandmothers, mine did not bake. Unless you count the occasional Sara Lee frozen pie thawed out on the counter and possibly
put in the oven, my grandmother did not bake. However, having a nice batch of cookies on the counter makes any house smell like home and I enjoy attempting to be a baking and cooking wizard!
Watching Food Network and getting a chance to see great bakers make wonderful, yummy goodies builds a confidence in me to jump in the kitchen, even if it is just a boxed brownie mix. My husband and I enjoy baking, mostly I enjoy the eating part, and we try to find new recipes to rework and make them our household's favorite.
Now, I am not an experienced baker but it seems the trick to most baking is finding just the right touch with the ingredients and making sure the cookie isn't too hard or too dry; and these cookies are just right.
(I can already hear Giada De Laurentiis and Alton Brown laughing at me)
So enough jabbering, Yinz can try this recipe for yourself!
Double Chocolate Mint Chip Cookies
2 sticks salted butter, at room temperature
2 cups granulated sugar
2 large eggs
2 tsp pure vanilla extract
3 cups all-purpose flour
2/3 cup unsweetened cocoa powder
1 tsp baking powder
1 tsp baking soda
1/2 cup dark chocolate chips
1/2 cup Andes crème de menthe baking chips (any mint chip or piece works)
Steps–
1: Preheat oven to 350 degrees F.
2: Cream the butter and sugar until light and fluffy
3: Add the egg and vanilla extract; beat for about a minute until mixed thoroughly
4: In another bowl mix flour, cocoa powder, baking powder, and baking soda
5: Dump the dry ingredients all at once in with the wet ingredients, mixing slowly until combined
6: Stir in Chocolate chips and mint chips
7: Line baking sheets with parchment paper or a silicon mat (if you don't have a silicon mat, get one!)
8: Scoop and roll the dough into balls a little smaller than a golf ball, place on the lined cookie sheet with 2 inches between each cookie ball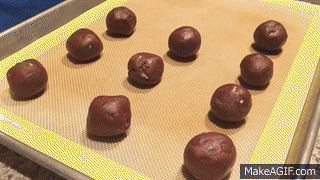 9: Bake for about 9-10 minutes. They will look like rounded puffs, you don't want them too over baked.
10: Don't eat just yet, try to resist and let them cool on the pan for a few minutes to set and then transfer to a cooling rack.
11: Eat before anyone get a chance to see them
TIPS:
The more you make by doubling or tripling the recipe, the more you can share… or (cough cough) eat with a nice large glass of milk or in your pantry trying to hide from the kids.
If you want to add more chocolate or mint chips, or don't use mint at all if you are not a mint fan… don't let rules dictate your life!
Whatever you do, they will still be just as tasty!
Now that it is getting to the cool time of year, turn on your oven and enjoy the world of baking!